What Is Speech Recognition?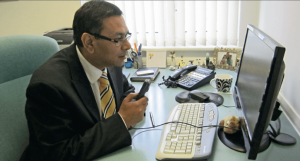 The purpose of Nuance Dragon speech recognition is to help you get more done in less time with the power of your voice.
To dictate your emails, letters and form filling you can just about generate data where you now use a keyboard. This is over 3 times as fast as a highly skilled typist – giving you back invaluable time……… Something we cannot get more of.
Dragon software can be used on computers, laptops, smartphones, netbooks. It can be cloud-hosted, server-based, enterprise-wide, subscription, perpetual license.
Here at ProVoice we are used to all the different product names associated with the Dragon range. However, it can be confusing! When a new product is launched and with similar names it does take some getting used to, So that is why we are here to explain the differences for you our clients. This is an exciting time in the speech recognition arena, so what does it do and what are the differences and similarities between the different Dragon speech recognition solutions, this will hopefully help give you a better understanding.
Meet our six Dragons

There are some important differences, and the names may be similar. But that is why we are here.     TO HELP YOU!
Dragon Professional Individual (DPI)
This edition is for an individual who requires speech recognition to assist them in their role, who may be part of a small company or sole trader.
The speech recognition engine is exactly the same as used in Dragon Professional Group, so your accuracy levels will be the same.
The differences lie within the advanced features and IT administration.
Although shortcut commands can be created with the DPI edition this is limited to text and graphics and there is no facility to create automation commands.
DPI is supplied as a single licence, there is no volume licensing, no central deployment options. DPI is supplied as a perpetual licence.
Dragon Professional Group (DPG)
This edition has historically been the most popular for business (but now DPA has arrived and this is changing!) The speech recognition engine is exceptional, the accuracy is brilliant.
DPG has advanced scripting capabilities which can be customised to automate repetitive tasks, and also integratesand also integrates and also integratesand also integrates commands with Microsoft Office templates and macros, speeding up workflow.
DPG can also be customised to interface with other office software applications. DPG has the option of the Nuance Management Centre (NMC) this is a central management centre giving organisations visibility of their users and usage, it also displays authors using the Dragon Anywhere Group App (discussed in a moment).
From an IT administration perspective, the DPG version is supplied as a perpetual volume licence, therefore one licence key is used for each installation, MSI deployments are possible and there is also annual support service.
DPG is not for healthcare users.
Dragon Professional Anywhere (DPA)    NEW KID ON THE BLOCK!
This new version is revolutionising the shape of speech recognition in business. Other editions of Dragon are quite 'heavy' products, they require 'proper' computers (FAT clients) to run on, and the software is fully installed onto the computer and runs from there.
This type of software can present issues in certain IT environments and use cases. DPA is lightweight and highly scalable version of the Dragon software, it provides accurate speech recognised text at the cursor with the facility of an 'intelligent' dictation box which can be anchored, therefore you can browse other areas of your computer whilst still dictating and capturing text (not possible with DPI or DPG).
This is the version for companies who need compatibility with virtualised environments, remote desktops and Citrix.
It can be hosted on your own virtual environment on-premise on the clients servers or we can also supply a subscription cloud* version where your IT infrastructure outlays are minimal. DPA can be supplied as a perpetual licence (when more than 20 users) or subscription-based model.
Click here to download the installer.
PLEASE NOTE: DPA is not for healthcare users.
Dragon Anywhere Mobile (DAM)
Dragon Anywhere Mobile (DAM) This version.
DAM is a Dragon App which can be used on your Smartphone, this enables users to create secure and accurate dictations which can be emailed to themselves, shared, synchronised to Dropbox or Evernote.
This edition does not allow users to dictate into other Apps on their phone. DAM will synchronise with DAM, for instance if you are using the App and teach it a new word it will sync with DPA on your local PC.
Note: You need the internet (WiFi or 3G/4G) to use this App.
DAM is subscribed to per user. DAM is not for healthcare users.
Dragon Medical Practice Edition (DMPE)
 This is the equivalent of DPG for medical professionals.
This version is developed especially for the healthcare sector, it contains pre-populated vocabularies and formatting for doctors, ensuring excellent accuracy regardless of the medical speciality.
It is secure and compatible with healthcare clinical systems.
It also has a dictation box facility which is similar to DPA where you can dictate into the dictation box whilst browsing other areas of your computer such as results pages whilst still capturing your diction, this is not possible with the non-medical editions.
DMPE is supplied as a perpetual volume licence with annual software maintenance. 
Dragon Medical One (DMO)
This is like DPA but for healthcare deployment.
It is a subscription-based model and is securely hosted, therefore the IT resource required on the end-user side is minimal. This edition is ideal for large medical rollouts such as Medical Clinics, GP practices, private hospitals and the like.
DMO provides central usage data in the form of Dragon Analytics, enabling organisations to monitor the usage levels and thus ensure that their return on investment is realised.